>Foto: Adilson Pacheco
A fourth placed finish, the Southern Ocean and his birthday – the first month of the 2014-15 edition was unforgettable for Team Vestas Wind's young Danish sailor Nicolai Sehested. And then… well, you know the rest.
A shipwreck in the middle of the Indian Ocean, a huge cleanup operation and race to rebuild the boat – and finally, the glory of returning for the final two legs to finish the edition. 
We caught up with the Danish sailor who lives in Copenhagen (55°N) but dreams of Cape Horn (55°S) about what he's been upto since the end of the race, a yearning for the Southern Ocean, and his future.
---
*Text by Jonno Turner
---
Hi Nicolai! Tell us what you've been upto since the end of the Volvo Ocean Race…
After the race I went straight back on the water. I skipper a Danish team on the World Match Racing Tour on M32 catamarans. I brought Brian Carlin (Team Vestas Wind OBR) with me as the media manager and Peter Wibroe joined me aswell, to continue the Vestas connection. I've done that for the last year – won a few events and got pretty close to the World Championship in Marstrand, losing in the final event which was a bit painful. It's been some great sailing, but it's so far from the Volvo Ocean Race that it would be really good to come back and get a feel of offshore life once again.
Do you think that the best way to move on from the Volvo Ocean Race is to get straight into another event?
I think it varies from person to person, but yes that was definitely my feeling after the race. Everyone knows we had a tough race – and I just really wanted to get back into sailing straight away and get some results. I thought it'd be fairly easy to get back into the World Match Racing Tour, and luckily in our first event, two weeks after the Volvo Ocean Race finished, we won the event. It was the best way for me to recover, to just get straight back onto a boat, and get out sailing. When you've been away from the Volvo Ocean Race for a year or so, it really hits you that it's very difficult to find racing as good as that anywhere else. There is a lot of catamaran and fast boat sailing but it's never as tough, hard and good fun as the Volvo Ocean Race. You really miss it when you're away from it.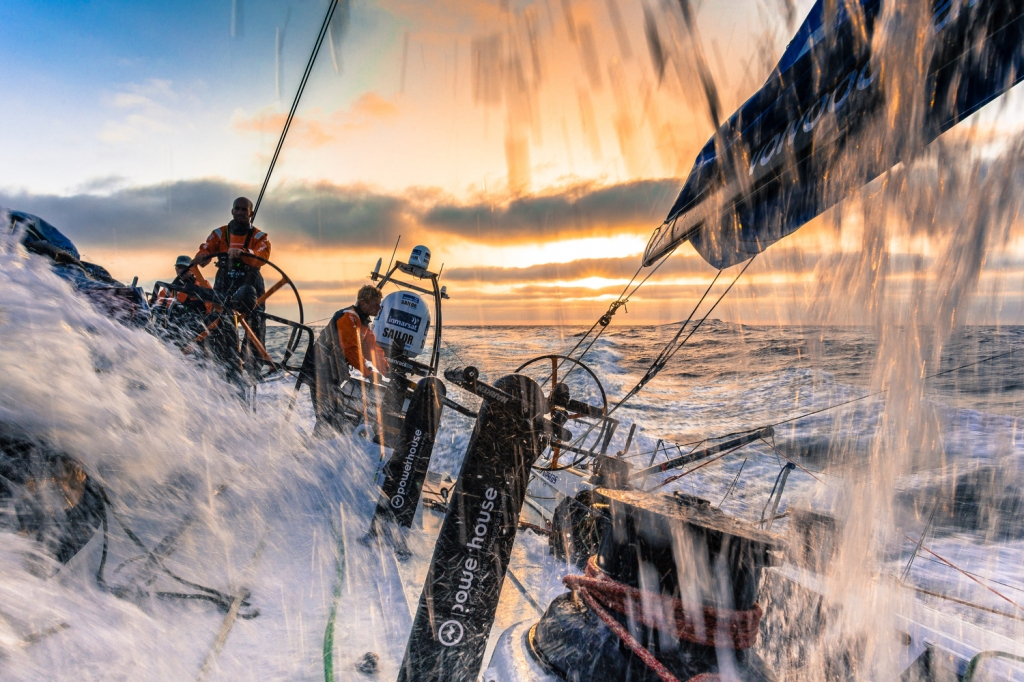 You're skipper of TRE-FOR Match Racing Team in the World Match Racing Tour. How do you find that responsibility, and have you noticed differences in your style since you did the race?
I've been skippering for five or six years now. Before the Volvo Ocean Race we were second or third in the world rankings, and obviously we took a bit of time out when I joined Team Vestas Wind. After the Volvo Ocean Race, it was easy to drop back into that – we were already one of the best teams in the world, and we just clicked again straight away. I've definitely noticed differences in my style post-Volvo Ocean Race, though. Sometimes I think, 'wow, I normally wouldn't do that, I must have learned that along the way!'. You learn loads from being on a team with guys such as Nico, Trae and Salty – they have so much experience. One of the biggest learnings is just mentally, how to push hard and long, and don't take the easy way, take the right way. There are always shortcuts you can take, but if you do that, you get in trouble later down the line.
We're over a year on from the finish line in Gothenburg – does it all feel a bit surreal now?

[Laughs] Well, it's a race we keep getting reminded of! I was a Danish sailor in a Danish team, and people don't forget about what we did in the Volvo Ocean Race. It's still very much in the public consciousness in Denmark – but it's still a bit surreal when you sit down and think we went through so much in such a short amount of time.
"I started as an in-shore sailor, and half a year later I found myself sitting shipwrecked on a little island in the Indian Ocean."
That's tough – but you learn a lot, and that will help me in future campaigns. It happened, it was painful and annoying – but so many more things could have happened. We all got away safely. I don't think about the crash too much now, I just appreciate the time I got to spend onboard with those guys. Now it's time to look to the future – I've got unfinished business.
I remember speaking to you in Mauritius and you were obviously hugely disappointed. How do you pick yourself up from that, as a young sailor?
My whole life, in my sailing, I've always been my harshest critic. I always want to be the best and to win – and as soon as anything goes wrong, and I don't win, I blame myself. It's just the way I push myself to improve. That being said, I'm also very good at moving on. I beat myself up for a day or two, and then I move on and take the learning from it. And one thing's for sure, you always learn from it. When we lost the World Championship a few weeks ago, I was pretty down right after that. But that's part of sport, you've got to be able to look yourself in the mirror and ask 'how did you mess this up?'. That's the way you can make sure you don't do it again.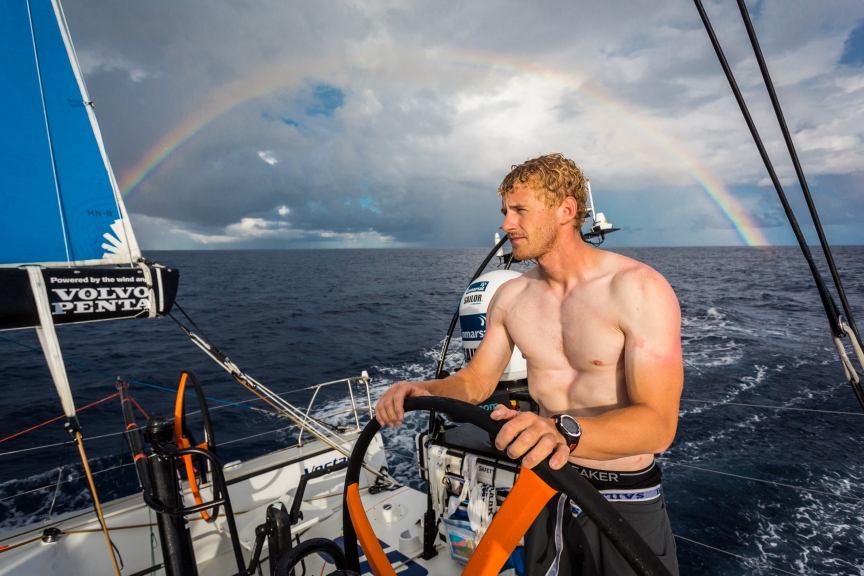 Do you feel like rejoining the Volvo Ocean Race for the final two legs of the 2014-15 edition closed the chapter?
Definitely not, we have unfinished business. I'm hungrier than ever to come back. We missed five major legs of the race. It was great to come back and finish the race off, for the team, the sponsor and all of ours supporters, but I think personally – and I know I speak for the most of the other guys – it's major unfinished business. No-one wants their last Volvo Ocean Race to be like that.
What are your thoughts on the newly-announced 2017-18 route?
The new route is just awesome – it's what the race is all about. We didn't get to spend much time in the Southern Ocean but the little bit we did see when we went to Cape Town was incredible. It's just cool racing – you push hard, and you push long. You just keep going. It's going to be a rough ride, but that's why we do this race.
It must be exciting to see a prospect like the epic Cape Town to Hong Kong leg…
Oh yeah, it's so cool. The more rough and long the legs are, the more special and fun they will be. You always have respect and fear for the ocean, but that's what doing the Volvo Ocean Race is. The experiences and memories you get from legs like that are second to none. Saying that, of course, we're not on an experience cruise – you also want to win.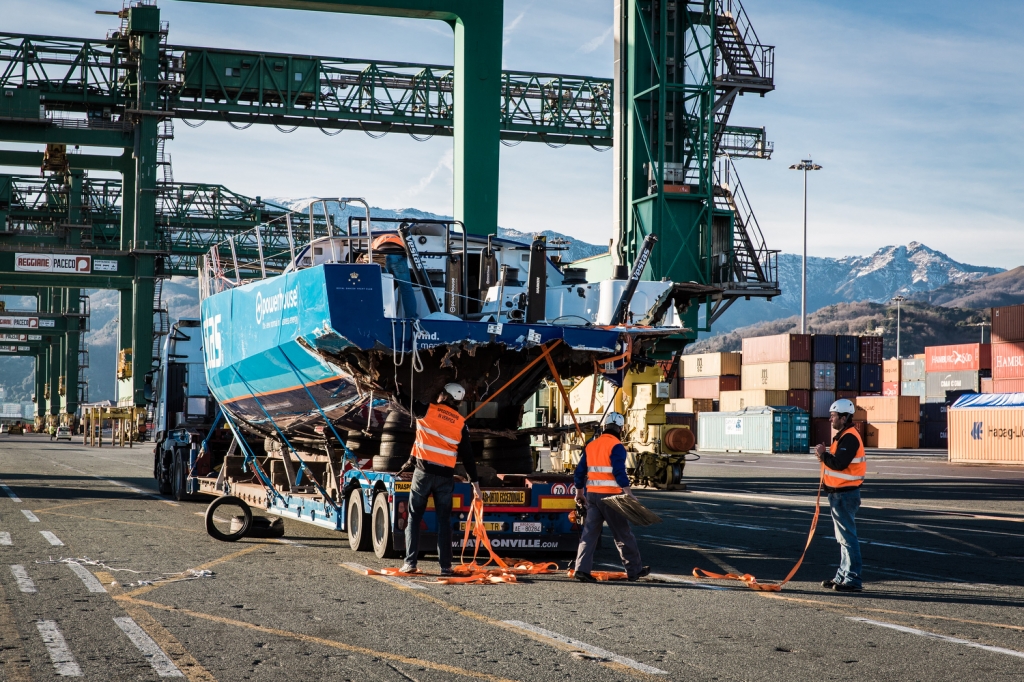 Where were you whilst the rest of the fleet was rounding Cape Horn last edition?
I was in Italy rebuilding our boat. I remember sitting down at the computer watching the fleet going around Cape Horn – and I'll be honest, it sucked having to watch that and no being able to be there. But it has made me hungry and want to push even harder. It's no fun to be in a shipyard somewhere while your competitors do something like that.
Can you explain how it felt to be representing your country in the Volvo Ocean Race?
To race with a Danish flag and defend the country is a very proud feeling. It's a huge honour to have your home colours on your shirt. The reaction in Denmark has been huge – I think the Volvo Ocean Race was pretty new to the public before we launched Team Vestas Wind, and the whole thing took everyone by surprise a little bit.
"People in Denmark quickly realised how cool the race is – how hard you push, what it takes to get around the world, and the experiences you earn."
Everyone has been very positive about the race, and obviously have a lot of questions about the situation we found ourselves in on Leg 2. As soon as you get an insight into this race, even if you didn't know it before, you'll be hooked straight away. And then, you can't get rid of it.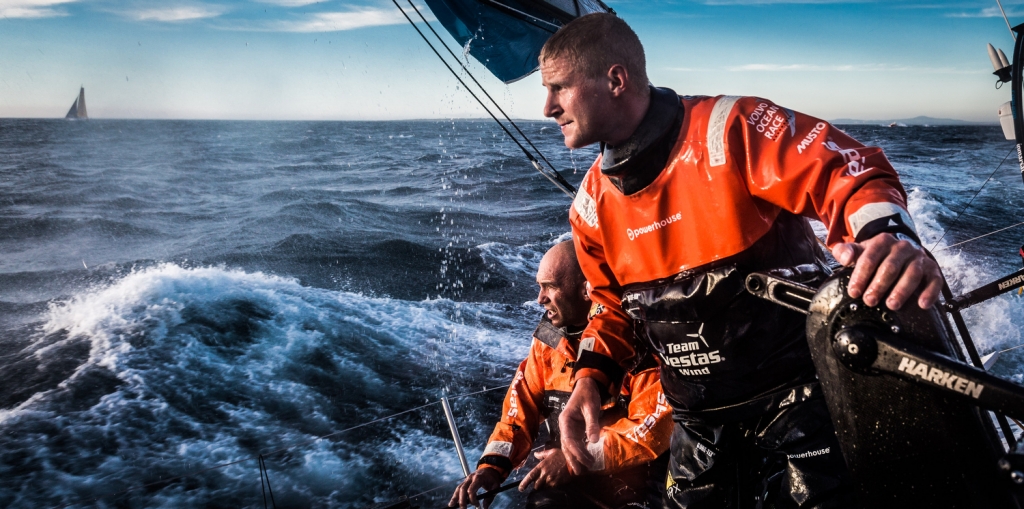 If you could speak to potential sponsors right now, what would you tell them?
Well firstly, I think that the Volvo Ocean Race is a great option for companies. It's not as much money as a lot of other sports and event sponsorships, and you get a huge return from it. Most other sponsorships just involve promotion, media – but with the Volvo Ocean Race you truly get to be part of the team. You're on the boat, you're with the sailors, you get the full adventure and so do your clients. It creates a lot of opportunities and I think that when people come down to the Race Village and feel the atmosphere of their own team racing it'll be one of the best days of their life.
As a sailor, how important is it to really represent your sponsor's values? 
I think you spend so much time with your sponsor that you can't help but adapt to their values and the way they want to do things. We showed that with Team Vestas Wind – the first thought we had after being shipwrecked was that we needed to go back and clean up. And we did it. It's one of the most beautiful places in the world and we couldn't risk leaving anything behind or damaging the environment. They're our values personally, but they're also corporate values of the sponsor, and so it was a great combination. You're a key ambassador for your sponsor, and you take pride in making sure you deliver. It's not a one-way relationship – it's not just about the goal, it's about the journey to the goal. You want to have a great race for everyone.
We have some great footage of you guys rounding the north of Denmark during the final leg to Gothenburg – how was that?
It was really cool – my family has a summer house up there, and it was great to be sailing past the place where I spend my whole childhood growing up. When we went around the tip of Denmark, there were a lot of people out on the beach cheering us along. It was an unforgettable moment as we'd only just got back into the race at that point, and all of their support meant a lot. It was a great finish to a rollercoaster race.
What is so special about this race? Can you sum it up?
It's really tough to explain. It's a question I get a lot, especially from people at home. They always ask why you would do that to yourself. But it's just a race that challenges you so much in all areas.
"The team spirit is huge – you're with some of your best mates, and you got through hell with them, but you also go through heaven."
Physically, mentally – you have to give yourself to the race just to get through it. I love racing in other events, but the Volvo Ocean Race is that little bit better to win, a little bit harder to lose, and a lot more painful.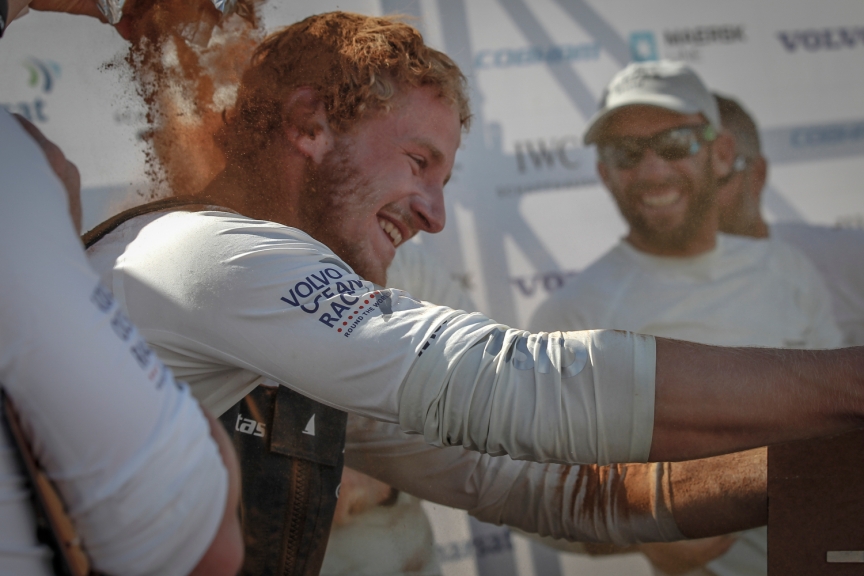 Do you still keep in contact with the rest of the Team Vestas Wind guys?
For sure, I'm still in touch with a lot of the guys on the team, and they'll be best friends for life. We spent so much time together, and I owe them a lot, as they made sure my first Volvo Ocean Race was a positive experience, despite the drama we went through. If I could race with those guys again in the next Volvo Ocean Race, that would be a dream come true – they're world-class sailors.
Of course, one of your teammates has already booked his place in the next edition – as skipper of Team AkzoNobel… 
I'm so pleased for Simeon. I'm not surprised, he was the right person to get a team and a Dutch entry. He's one of the best sailors I've ever sailed with. He's hard working, has a great attitude, and he's very talented. He's definitely the kind of guy who will do well – he knows what it's all about. He arrived at a really hard time last race and performed so well straight away. He was a key player in our success in the last stages of the race – when it gets tough, he pulls you through. If you're a natural leader, you don't need a sign on your back to tell everyone – you just be yourself and people listen. That's Simeon in a nutshell, and Nico is the same. You have to have the edge if you want to be a successful leader in the Volvo Ocean Race, and a successful skipper.
What's next for you over the coming weeks and months?
We're going back into the World Match Racing Tour in September to try and win the World Championships, and then there's a lot of small and big boat sailing over the following months. Meanwhile, I'm desperately hoping for the option to do the next Volvo Ocean Race. I'm fit, I'm strong, I'm hungry, and I'll grab the chance if it comes.